Ad blocker interference detected!
Wikia is a free-to-use site that makes money from advertising. We have a modified experience for viewers using ad blockers

Wikia is not accessible if you've made further modifications. Remove the custom ad blocker rule(s) and the page will load as expected.
Slotts is a Swedish brand of mustard. It har previously been owned by Cadbury Schweppes and later by Kraft Freia Marabou, but was sold to Unilever in 1999. The brand has previously been used for salad dressings and ketchup, but those products have been discontinued.
1999-2010

2010-2015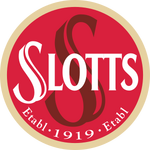 2015-present

Subsidiaries
Hindustan Unilever | Unilever Indonesia | Unilever Philippines
---
Condiments and Ingredients
Knorr (Royco) | Maizena | Hellmann's | Amora | Calvé | AdeZ | Blue Band (Rama (Rama (Central Europe) | Bertolli | Conimex | Unox | Zwan | Skippy | Slim-Fast | Wish-Bone | Ragú | Crème Bonjour | Maille | Colman's | Alsa | Saga | Winborgs | Slotts | O'hoj | Mondamin | Lady's Choice | Best Foods | Lipton (Ice Tea | Brisk) | PG Tips
---
Cooking oils and Margarines
Flora: Central Europe, United Kingdom, Australia and Asia, Finland, Sweden | Becel | Planta | Fruit d'Or | Milda | Promise | I Can't Believe It's Not Butter!: US, UK | Shedd's Spread Country Crock | Lätta | Hera | Perla
---
Cosmetics
Axe | Block & White (Philippines) | Close-Up | Degree (USA, Canada) | Dove | Eskinol (Philippines) | Signal | Pepsodent | Lux | Lakmé | Lynx (UK, Ireland, Australia, New Zealand) | Hamam | Breeze | Liril | Master (Philippines) | Pond's | Rexona | Suave | Sure (UK, Ireland) | Vaseline | Lifebuoy | Pond's Men | Baba
---
Cleaning Materials, Shampoos and Conditioners
Cream Silk (Philippines) | Domestos | OMO | Persil (UK and Ireland) | Via | Comfort | Sun | Sunsilk | Cif/Jif | Surf Excel | Rinso | Clear | Sunlight | Super Pell | Robijn | TRESemmé
---
Detergents
Breeze | Surf (Philippines) | Vivere (Argentina)
---
Heartbrand Ice Creams
Wall's (Great Britain, Indonesia, Malaysia) | Algida (Italy, Greece, Turkey, Poland, Romania, Estonia) | Good Humor (USA) | Langnese (Germany) | Miko (France) | Frigo (Spain) | Ola (Netherlands, Belgium) | Olá (Portugal) | HB (Ireland, Northern Ireland) | GB Glace (Finland, Sweden) | Frisko (Denmark) | Eskimo (Austria) | Lusso (Switzerland) | Inmarko (Russia) | Bresler (Chile) | Holanda (Mexico) | Kibon (Brazil, Argentina, Falkland Islands) | La Fuente (Colombia) | Pingüino (Ecuador) | Tio Rico (Venezuela) | Streets (Australia, New Zealand) | Strauss (Israel) | Kwality Wall's (India) | Selecta (Philippines)
---
Special Ice Cream
Magnum | Cornetto | Solero | Calippo | Vienetta | Carte d'Or | Ben & Jerry's | Breyers | Popsicle | Klondike | Blue Bunny | Paddle Pop | Grom
---
Defunct
Van den Bergh Foods
---