2003–2012
A SVG version of this logo is recommended but not required. You can help Logopedia by uploading it here.
2012–present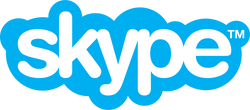 Following an acquisition by Microsoft in 2011, Skype's logo was changed to a metro-style mark in 2012 and the foreground was slightly altered. In the same year, Skype launched its own app on Windows 8 (app now defunct). Recently, in version 2, this logo appeared as the animation when you sign in only lacking the "™" symbol. There is a Windows 10 version that is supposed to appear in the Anniversary Update. Windows Insiders can currently preview it.
Ad blocker interference detected!
Wikia is a free-to-use site that makes money from advertising. We have a modified experience for viewers using ad blockers

Wikia is not accessible if you've made further modifications. Remove the custom ad blocker rule(s) and the page will load as expected.