Weather 21
1999-2000

The Weather Channel
2000–2013

Sky News Weather Channel
2013–present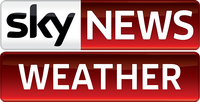 In 2012, with the dissolution of XYZnetworks as a result of the merger of Foxtel and Austar, control of the channel was handed over to Australian News Channel. In January 2013, the channel was renamed the Sky News Weather Channel.
Ad blocker interference detected!
Wikia is a free-to-use site that makes money from advertising. We have a modified experience for viewers using ad blockers

Wikia is not accessible if you've made further modifications. Remove the custom ad blocker rule(s) and the page will load as expected.