1999-2007

Sky News Radio launched in June 1999 originally providing bespoke bulletins for Talk Radio UK. The service subsequently expanded in October 2001 to provide hourly news bulletins, audio and scripts for clients including UTV Radio, GMG Radio, Global Radioand DNN.
A better version of this logo is needed, due to the picture quality, inaccuracies or other issues with the uploaded logo. You can help Logopedia by uploading it here.
2007-2012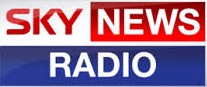 On 15 October 2008, IRN announced it was switching its main supplier of news from ITN to Sky News Radio.
The new IRN service began at 2pm on Tuesday 3 March 2009.
2012-present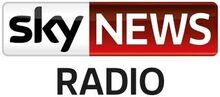 Sky UK
General channels
Sky One | Sky Two | Pick | Sky Atlantic | Sky Living | Real Lives | Challenge | Sky Arts | Sky News
Former general channels
Sky Real Lives | Sky Travel Shop | Sky Soap | Sky Scottish | Sky Living Loves | Bravo | Bravo 2 | Channel One | [.tv] | The Comedy Channel | Galaxy | Now | The Power Station | Sky 3D | Sky 3D Box Office | Sky Arts 1 | Sky Arts 2
Sky Cinema channels
Premiere | Action | Thriller | Comedy | Disney | Drama | Family | Greats | Sci Fi & Horror | Select | Hits
Former Movies channels
Classics | Indie | Max | Premier | Superheroes | Box Office
Sky Sports channels
Main Event | Premier League | Football | Cricket | Golf | F1 | Action | Arena | Mix | At the Races |
News | Box Office | Xtra (online) | Extra (BT TV)
Former Sports channels
PremPlus
Services
Sky+ | Sky+ HD | Sky Q | Freesat from Sky | Sky Active | Sky News Active | Sky Broadband | Sky Games | Sky Go | Sky Guide | Sky IQ | Sky Multiscreen | Sky on Demand | Sky Text | Sky Yahoo! Mail | The Cloud | Now TV | Sky Kids | Sky Trax
Sky Betting & Gambling (20%)
Sky Bet | Sky Bingo | Sky Casino | Sky Poker | Sky Vegas
Australian News channels (33%)
Sky News Australia | Sky News Business Channel | Sky News Weather Channel
---
Sky Deutschland
Sky Cinema (HD, +1, +1 HD, +24, +24 HD) | Sky Cinema Action (HD) | Sky Cinema Comedy | Sky Cinema Emotion | Sky Cinema Hits (HD) | Sky Cinema Nostalgie | Sky Cinema Family (HD)
Sky Sport Info | Sky Sport 1 | Sky Sport 2 | Sky Sport Austria | Sky Sport Fussball Bundesliga | Sky Sport HD1 | Sky Sport HD2 | Sky Sport HD Extra | Sky Sport News HD
Sky Krimi | Sky 3D | Sky Arts | Sky Atlantic (HD) | Sky 1 (HD, +1 HD)
Former: Sky Select | Premiere Serie
---
Sky Italia
Free to air channels
TV8 | Cielo

Digital channels
Main
Sky Uno (HD, +1, +1 HD) | Sky TG24 (HD) | Sky Meteo24 | Sky Arte HD | Sky Atlantic (HD, +1 HD) | Sky Primafila
Sky Sport
Sky Sport 1 (HD) | Sky Sport 2 (HD) | Sky Sport 3 (HD) | Sky Sport Plus (HD) | Sky Supercalcio (HD) | Sky Sport24 (HD) | Sky Sport Mix HD | Sky Sport F1 (HD) | Sky Sport MotoGP (HD) | Sky Calcio (1 (HD) | 2 (HD) | 3 (HD) | 4 (HD) | 5 (HD) | 6 (HD) | 7 (HD) | 8 (HD) | 9 | 10 | 11 | 12 | 13)
Sky Cinema
Sky Cinema Uno (HD, +1, +1 HD, +24, +24 HD) | Sky Cinema Family (HD, +1 HD) | Sky Cinema Hits (HD) | Sky Cinema Max (HD, +1, +1 HD) | Sky Cinema Classics (HD) | Sky Cinema Passion (HD) | Sky Cinema Comedy (HD) | Sky Cinema Cult (HD)

Defunct channels
Sky Vivo | Sky Show | Sky Cinema Mania (HD) | Sky Cinema Italia (HD) | Sky Sport Extra (HD) | Sky Inside | Sky 3D
---
---