2003–2010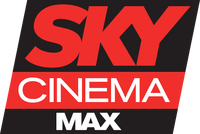 2010–2016
Sky Cinema was relaunched with new idents created by London broadcast design agency Dunning Penney Jones in July 2010.
The ident for Sky Cinema Max contains a gyroscope which spin faster and faster before exploding to reveal the Sky Max logo.
2016-present
This article or section does not include the current logo at the moment. You can help Logopedia by uploading it here.
Free to air channels
pay-TV channels
Main
Sky Uno (HD, +1, +1 HD) | Sky TG24 (HD) | Sky Meteo24 | Sky Arte HD | Sky Atlantic (HD, +1 HD) | Sky Primafila
Sky Sport
Sky Sport 1 (HD) | Sky Sport 2 (HD) | Sky Sport 3 (HD) | Sky Sport Plus (HD) | Sky Supercalcio (HD) | Sky Sport24 (HD) | Sky Sport F1 (HD) | Sky Sport MotoGP (HD) | Sky Calcio (1 (HD) | 2 (HD) | 3 (HD) | 4 (HD) | 5 (HD) | 6 (HD) | 7 (HD) | 8 (HD) | 9 | 10 | 11 | 12 | 13)
Sky Cinema
Sky Cinema Uno (HD, +1, +1 HD, +24, +24 HD) | Sky Cinema Family (HD, +1 HD) | Sky Cinema Hits (HD) | Sky Cinema Max (HD, +1, +1 HD) | Sky Cinema Classics (HD) | Sky Cinema Passion (HD) | Sky Cinema Comedy (HD) | Sky Cinema Cult (HD)

Defunct channels
Sky Vivo | Sky Show | Sky Cinema Mania (HD) | Sky Cinema Italia (HD) | Sky Sport Mix HD | Sky Sport Extra (HD) | Sky Inside | Sky 3D