1992-2002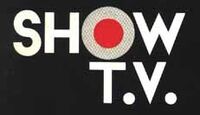 Show T.V. was created on March 1, 1992 by Mehmet Emin Karamehmet. The logo and its idents were made by Etienne Robial (from On/Off Productions). The channel began broadcasting in France before its actual distribution (Turkey, North Africa).
Identity presentation (On/Off Productions)
2002-present
Show TV has redesigned the logo, this time, abreviating to "Show", changing the name's typeface, and the "O" being the flower's center; and now broadcasts 24 h/24 h.