Contents

1963–1970
1968–1970
1970–1975
1975 (Early concept)
1975–1989
1989–1999
2000–present
Australian Television Network
1963–1970
1968–1970
This logo was used by Seven's Sydney station ATN-7 from 1968-70. This logo was from the 'Circle 7' design used by many ABC affiliates in the U.S. It was around this time that the network became known colloquially as the "Seven Network".
1970–1975
The first logo used across the network consisted of the number 7 inside a ring.
1975 (Early concept)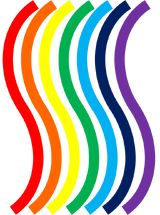 This was used only on Seven's Melbourne station HSV-7 for its first colour programmes in March 1975 until September 1975 when it adopted the 'Rainbow 7' logo.
1975–1988
On 1 March 1975, colour television was introduced across the network, along with a new logo which incorporated a bright ring of the colours of the visual spectrum.
1989–1993

In 1989, the network attempted to revert to its original name through a complete rebrand; however, the Seven Network name was ultimately kept and became the official name of the network. The name appeared at the end of programmes from 1988 till 1993.
Seven Network
1989–1999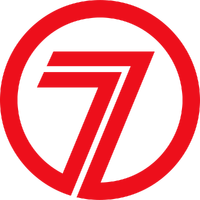 Along with the recently renamed Seven Network came a new logo with the circle modified to incorporate the 7. American television station WJLA-TV used a logo similar to this logo (with several variations) from 1975 to 2001.
2000–Present
Starting with the new millennium, in October 1999, Seven unveiled a new logo which in effect is two-angled trapezoids. The logo also went on-air in January 1, 2000.
In September 1, 2003, the ribbon logo was simplified and became solid red, although it look quite similar to the ABC squiggle that was used since 1975.
Other