Children's Television Workshop
1969–1983
Sesame Workshop was launched as Children's Television Workshop in 1969.
For other characters of this logo, see Sesame Workshop/Other characters.
1978–1983, 1988
1983–1997
1995–2000
1997-2000
Sesame Workshop
2000-present
2000–2007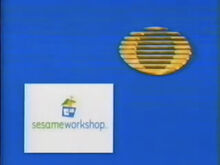 In 2000, Children's Television Workshop changed its name to Sesame Workshop.
2006–present
Note
Although Sesame Workshop never distributed its own shows, it has always owned copyright of them, to the point of having a "presents" credit, without mentioning PBS during the TV series or Warner Bros. Pictures during "Follow that Bird".
Other
Networks
---
---
---
Ad blocker interference detected!
Wikia is a free-to-use site that makes money from advertising. We have a modified experience for viewers using ad blockers

Wikia is not accessible if you've made further modifications. Remove the custom ad blocker rule(s) and the page will load as expected.