1983-1991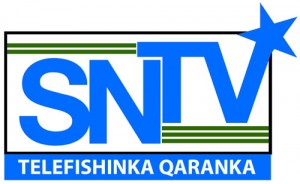 In 1983, SNTV started broadcasting for the first time. This was the logo they used until they ceased in 1991. They used a simple typeface and a interesting design to get viewers to watch them.
April 2011-2014
In 2011, SNTV was rebooted, and so, it got a makeover. The boxy design was out for a oval look. The typeface changed, and the background was swapped for a 2D map of the world. The signature star was on the T instead of the V.
2014-present
This article or section does not include the current logo at the moment. You can help Logopedia by uploading it here.
In 2014, the logo was updated to be 3D. The colour of the background changed hue slightly aswell. The indents are still from the previous era, though.