1977-
SL celebrated its centennial anniversary in 1977. With this came a new logo.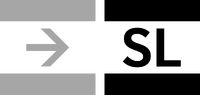 In the early 2000s, SL started slowly introducing in a new logo, created by Igor Kazakov. The new logo was phased in on ads and timetables. However, in 2004, SL's politically appointed board suddenly decided to throw out the new logo and revert to the old one.
Ad blocker interference detected!
Wikia is a free-to-use site that makes money from advertising. We have a modified experience for viewers using ad blockers

Wikia is not accessible if you've made further modifications. Remove the custom ad blocker rule(s) and the page will load as expected.