SG50
2015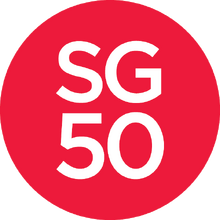 The icon was created by the Singaporean Ministry of Culture, Community and Youth as part of promoting Singapore's 50th anniversary of independence. The icon was placed around the city state, on buildings and used on various products, such as a special edition Rolls Royce and 2 Singapore Airlines aircrafts with specialised liveries.
SG
2016-present
On New Year's Day of 2016, the brand dropped the '50' as the jubilee year had passed and is planned to be used as an everyday icon of Singapore in a similar vein to Sweden's logo.
Ad blocker interference detected!
Wikia is a free-to-use site that makes money from advertising. We have a modified experience for viewers using ad blockers

Wikia is not accessible if you've made further modifications. Remove the custom ad blocker rule(s) and the page will load as expected.