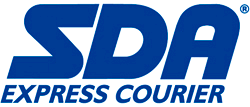 SDA Express Courier, part of the Poste Italiane Group, manages logistics, distribution and direct sales.
It started out in 1984 as an express courier for deliveries in Italy, but over the years it has grown in other strategic sectors too. It offers a complete range of services: from international service to express services with guaranteed delivery times; dedicated, specialised services, technological solutions and specific e-commerce solutions.
In 1998 SDA Express Courier joined the Poste Italiane Group, Italy's leading organisation in the services sector.