Ad blocker interference detected!
Wikia is a free-to-use site that makes money from advertising. We have a modified experience for viewers using ad blockers

Wikia is not accessible if you've made further modifications. Remove the custom ad blocker rule(s) and the page will load as expected.
1990s-2008
Rowlands Pharmacy launched as a company of the PHOENIX group (the same group which accompanies Numark). In the mid-2000s, Rowlands Pharmacy saw the appearance of its current mascot, "Rowland the Owl", in Rowlands Pharmacy advertising, window signage and miscellaneous.
2008-present
Rowlands Pharmacy logo got a complete makeover in 2008, including: "ROWLANDS" with no letter spacing, "PHARMACY" changing from uppercase to lowercase letters and no letter spacing, and a revised version of the cross, without the blue square being visible, and a new tagline: 'Caring for you & your family'. The previous logo was still being used as a secondary until 2011/12, which was only seen on pharmacy and dispensary labelling/signage in older branches, which were first open before this logo was introduced (The brand new and newly refurbished branches now use this new logo on signage/labelling, but a small number of older branches are still using the old signage today, and using the new labelling). "Rowland the Owl" is still being used as the pharmacy's leading mascot. Rowland's family was later introduced to miscellaneous and advertising.
In Late 2013, Rowlands Pharmacy introduced the "Healthy Living Services" campaign, which puts customers at the heart of everything at Rowlands Pharmacy. Earlier in the year, Rowlands Pharmacy saw the launch of a new healthy living and lifestyle magazine, "Your Life", which launches a new issue in every season of the year. The first issue was published in January.
Examples of stores carrying the new look branding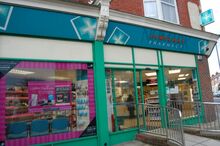 An example of a Rowlands Pharmacy branch using the old signage and the new look branding.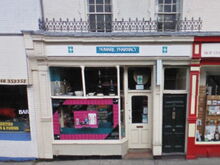 An example of a Rowlands Pharmacy branch using the 1990s-style signage (featuring Numark Pharmacy's own logo) and the new look branding.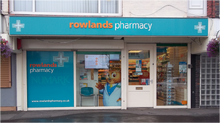 An example of a new look Rowlands Pharmacy branch with new signage.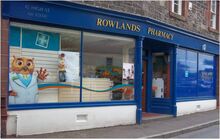 An example of a Rowlands Pharmacy branch using the pre-1990s signage and new look branding.