1983–present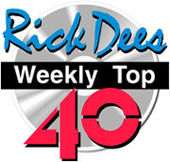 Rick Dees Weekly Top 40 (sometimes known as The Weekly Top 40) is an internationally syndicated radio program created and hosted by American radio personality Rick Dees. It is currently heard on over 200 radio stations worldwide and the American Forces Network. It is distributed domestically by Compass Media Networks and internationally by Radio Express.
The Weekly Top 40 debuted in September 1983.
Ad blocker interference detected!
Wikia is a free-to-use site that makes money from advertising. We have a modified experience for viewers using ad blockers

Wikia is not accessible if you've made further modifications. Remove the custom ad blocker rule(s) and the page will load as expected.