Ad blocker interference detected!
Wikia is a free-to-use site that makes money from advertising. We have a modified experience for viewers using ad blockers

Wikia is not accessible if you've made further modifications. Remove the custom ad blocker rule(s) and the page will load as expected.
Contents

2007-2009
2009-2010
2010-present
2007-2009

Rai Gulp's original logo followed the logo designs of Rai's three flagship channels, Rai Uno, Rai Due, and Rai Tre. Its logo had blue color but appeared in a yellow background in its idents (Rai 1, Rai 2, and Rai 3 had their idents between 2003 and 2010 showing their colors in white and in their respective colors, blue, red, and green).
2009-2010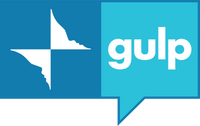 Rai Gulp changed its logo to follow the styles of Rai's other digital channels (Rai Gulp is a TV channel available only on digital TV). Rai Gulp's logo had a unique pattern, wherein the square on the right had a triangle below it, making it resemble a speech box.
2010-present
In 2010, Rai launched its new corporate logo. Rai Gulp slightly modified its logo, following the design of its sister channels, dropping the butterfly symbol and maintaining the light blue color and speechbox shape of the previous logo, which was also adopted by another youth-oriented channel, Rai YoYo (both channels target younger audiences). When this logo was launched they have the old 2008 idents instead of the new bumpers. The new bumpers debuted on November 2010