Contents

2003–2010
2010
2010–present
Rai Sat Extra
2003–2010

Rai Extra
2010
The channel was relaunched as Rai Extra in 2010, dropping the "Sat" part (with the retirement of the RaiSat brand and Rai's corporate rebranding). Rai Extra's logo followed the styles of its sister channels, dropping the RaiSat logo and maintaining the previous logo's orange color.
Rai 5
2010–present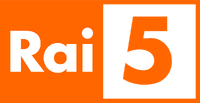 Rai Extra was replaced/relaunched as Rai 5. The new logo followed the logo styles of Rai's flagship channels Rai 1, Rai 2, Rai 3, and Rai 4, as Rai 5 was also promoted to becoming one of Rai's five flagship channels, though its mostly cultural and lifestyle programming lineup differed in comparison to the generalist programming of the four channels.
As of September 12, 2016 this is the only remaining logo which uses the two square form which was used on its sister channels (1-4) until that date.
Ad blocker interference detected!
Wikia is a free-to-use site that makes money from advertising. We have a modified experience for viewers using ad blockers

Wikia is not accessible if you've made further modifications. Remove the custom ad blocker rule(s) and the page will load as expected.