This article is being considered for protection.

You can discuss it at Talk:RTP. This page should be protected for the following reason: Recent vandalism by Mort the Mouse Lemur.
Contents

1957–1959
1959–1968
1968–1982
1982–1996
1996–2004
2004–2015
2015–present
1957–1959
A better version of this logo is needed, due to the picture quality, inaccuracies or other issues with the uploaded logo. You can help Logopedia by uploading it here.
RTP (as Radiotelevisão Portuguesa) has started its transmissions on 7 March 1957.
1959–1982
1959–1968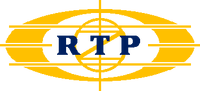 1968–1982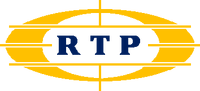 1982–1996
In 1982,  RTP obtained colors for its new logo. The logo had an golden antenna with the words "RTP" in the center. Also, the globe was removed.
1996–2004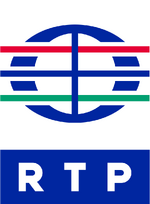 In 1996, RTP modified its antenna logo, changing its color from yellow to blue and adding 3 colored lines colored in red, green, and blue. The RTP name changed its typefont and moved from the center of the logo to the bottom of it.
2004–2015
In 2004, RTP unveiled its new logo, an evolved version of the antenna, now denoted by straight lines, and in all-blue color. The logo first appeared on the construction of the building of RTP and RDP. The RTP name also changed its typeface.
With the new logo, all RTP channels changed their logos, using different colors.
2015–present

Following RTP Informação's relaunch as RTP3 on October 05th 2015, RTP updated its corporate logo to adapt it to the channels' new logos. RTP Memória adapted its logo to the corporate one on October 18th, 2015, RTP1 adapted its logo to the corporate one on March 7th, 2016, RTP2 adapted its logo to the corporate one on May 9th, 2016, RTP África and RTP Internacional adapted their logos to the corporate one on October 7th, 2016, RTP Açores adapted its logo to the corporate one in December 8th, 2016, and RTP Madeira adapted its logo to the corporate one on February 13th 2017.
Other
RTP
Television
---
---
---
---
---