Ad blocker interference detected!
Wikia is a free-to-use site that makes money from advertising. We have a modified experience for viewers using ad blockers

Wikia is not accessible if you've made further modifications. Remove the custom ad blocker rule(s) and the page will load as expected.
2007-2012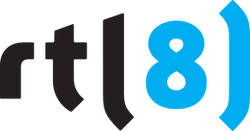 RTL8 was launched in 2007 after RTL Nederland's aquisition and closedown of Tien.
RTL8 launched a new look on January 31, 2011. Unlike RTL7, which got a new logo a few months earlier, RTL8 will keep its logo. The new look is designed to look like a magazine. The new look was created with OOQ.
2012-Present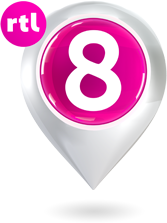 RTL 8 got a whole new look in 2012 with a pink colour to reflect the channel's new programming aimed at a female audience.
Belgium
RTL Belgium (66%)
Television
RTL-TVI (HD) | Club RTL (HD) | Plug RTL (HD) | Radio Contact Vision (44,2%)
Blocks
Kidz RTL
Radio (44,2%)
Bel RTL | Radio Contact | Contact RnB | Mint

---
Croatia (90%)
Television
RTL Televizija | RTL2 | RTL Kockica | RTL Living | RTL Crime | RTL Passion

---
France (48,55%)
Television
M6 (HD) | W9 (HD) | 6ter (HD) | Paris Première (HD) | Téva (HD) (100%) | Série Club (HD) (24.3%) | M6 Music (HD) (100%) | M6 Boutique (100%) | Girondins TV | RTL9 (HD) (35%)
6play: Bruce | Sixième Style | Comic | Crazy Kitchen | Stories | Hometime
Radio (100%)
RTL | RTL2 | Fun Radio
Sports
Girondins Bordeaux
Production
SND

---
Germany (100%)
Television
RTL Television (HD) | RTL II (HD) | RTL Nitro (HD) | Super RTL (HD) | VOX (HD) | n-tv (HD) | RTL Living (HD) | RTL Crime (HD) | RTL Passion (HD) | Geo (HD) | RTL Plus | Toggo Plus | RTL International | Channel 21
Radio
104.6 RTL | 105.5 Spreeradio | Antenne Bayern (16%) | Radio Hamburg (29,17%) | Radio NRW (16,96%) | Radio 21 (17,3%) | Radio Regenbogen (15,75%) | Big FM (7,74%) | Hitradio RTL Sachsen | Hit-Radio Antenne | Radio Brocken (53,5%) | 89.0 RTL (53,5%) | Antenne Thüringen (15%) | Radio Ton (2%) | Rock Antenne (16%) | Sachsen Funkpaket | Oldie 95 (4,38%) | Radio Top 40 (¿?%) | Hit radio RTL (30,5%)

---
Hungary (49%)
Television
RTL Klub (HD) | RTL II (HD) | RTL+ | Cool TV (HD) | Film+ (HD) | Film+2 | Muzsika TV | Sorozat+ | RTL Spike

---
India
Television
BIG RTL Thrill (Joint venture with Reliance Broadcast Network)

---
Luxembourg (100%)
Television
RTL Télé Lëtzebuerg (HD) | Den 2. RTL | RTL9 (HD) (35%)
Radio
RTL Radio Lëtzebuerg | RTL Radio die besten Aller Zeiten | UKW 93,3 | UKW 97,0 | Eldoradio (74,8%)

---
The Netherlands (100%)
Television
RTL4 (HD) | RTL5 (HD) | RTL7 (HD) | RTL8 (HD) | RTL Z | RTL Lounge | RTL Crime | RTL Telekids
Blocks
RTL Telekids
Radio
RTL Lounge Radio | Caz! | HitRadio Veronica | Juize | Pinguin Radio | Radio 10

---
Southeast Asia
(Joint venture with CBS Studios International)
Television
RTL CBS Entertainment (HD) | RTL CBS Extreme (HD)

---
Spain (20,5%)
Television
Antena 3 (HD) | LaSexta (HD) | Neox (HD) | Nova (HD) | Mega (HD) | Atreseries (HD)
Blocks
Neox Kidz
Radio (19,17%)
Onda Cero | Europa FM | Melodía FM

---
United Kingdom
Production
FremantleMedia

---
Planned
Bel RTL Vision

---
Defunct
902 TV | Best of Shopping | Fun TV | K1010 | Lacht | LaSexta2 | LaSexta3 | M6 Music Black | M6 Music Club | M6 Music Rock | Nitro | Radio Mango | RTL Plus | RTL Sport HD | RTL24 | RTL-TVi 20 ans | TF6 (HD) | Topradio | Traumpartner TV | Xplora | Pass M6