For the Hungarian television channel, see: RTL II (Hungary).
For the French radio channel, see RTL2 (France).
For the German television channel, see RTL II.
2010–2011 (pre-launch)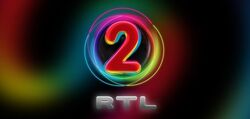 2011–present

The logo was changed after the channel was launched. It differs from the logo of the German RTL II in that the Arabic numeral 2 is used instead of the Roman numeral II.