Insight Radio
2007-2014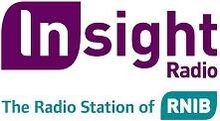 Insight Radio is Europe's first radio station for blind and partially sighted people. The service contains a high level of news, debates on current affairs, public service information and other specialist reports.
Insight Radio broadcasts locally to Glasgow on 101 FM and UK-wide via Freeview.
2014-2016

RNIB Connect Radio
2016-present

The service was renamed in April 2016.