Radio Keith Orpheum
1928–1936
Radio Pictures
1929–1931
1931–1936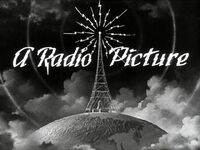 RKO Radio Pictures
1936–1959
This logo continued to be used during the days when the company was referred to as "RKO Teleradio Pictures."
1937–1956
This logo was used in many Disney films.
RKO Pictures
1981-1992
1981–1987
1987–1992
1992-1997?
1997–present
2009–present
Ad blocker interference detected!
Wikia is a free-to-use site that makes money from advertising. We have a modified experience for viewers using ad blockers

Wikia is not accessible if you've made further modifications. Remove the custom ad blocker rule(s) and the page will load as expected.