Qantas (Queensland and Northern Territory Aerial Services) is the national airline of Australia.
1944-1947
1947-1968
The common company nickname "Flying Kangaroo" probably derives from this logo. Note the shape of the Australian continent in the southern hemisphere of the globe.
1968-1984
1984-2007
2008-present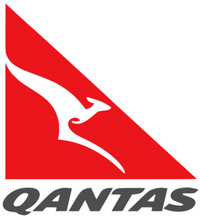 Hulsbosch tweaked the Qantas logo in 2008 to make way for the arrival of the Airbus A380, but first flew on one of their Boeing 767-300ERs. Both the kangaroo and the text were modified.