Gebrüder Dassler Schuhfabrik
1924-1949​​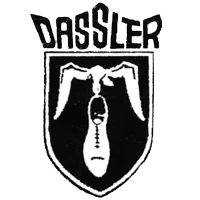 Founded in 1924 by Dassler Brothers: Adolf "Adi" and Rudolf.
Puma
1949-1968
In 1948, the company was split in two companies. Adolf renamed the former company as Adidas and Rudolf founded a new one: Puma.
The old logo with the words "Rudolf Dassler Schuhfabrik". Puma jumps by the letter D (the first letter of the name Dassler).
1968-present
The new logo with a new font and new design animal.
External links
Ad blocker interference detected!
Wikia is a free-to-use site that makes money from advertising. We have a modified experience for viewers using ad blockers

Wikia is not accessible if you've made further modifications. Remove the custom ad blocker rule(s) and the page will load as expected.