2009-2015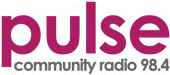 2015-present

Pulse 98.4 started broadcasting full-time to the Barrhead area of Renfrewshire at the end of July 2009. 
Although the station has a large number of young volunteers, it has participants of all ages and it looks to reflect the views, opinions and talents of the East Renfrewshire communities.
Ad blocker interference detected!
Wikia is a free-to-use site that makes money from advertising. We have a modified experience for viewers using ad blockers

Wikia is not accessible if you've made further modifications. Remove the custom ad blocker rule(s) and the page will load as expected.