Prime HD
2005

2007–2010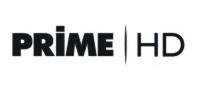 A better version of this logo is needed, due to the picture quality, inaccuracies or other issues with the uploaded logo. You can help Logopedia by uploading it here.
Prime HD was launched on 15 October 2007 as a Prime Media Group counterpart of Seven HD. The channel was replaced by 7mate on 25 September 2010. 
Prime7 HD
2018-present

With no explanation whatsoever, Prime Media Group relaunched their HD service on 15 January 2018 as a full simulcast of Prime7. Which reduced 7mate to standard definition.