Powergen was a former energy company which was founded in 1989, and since then, it was used as a sponsorship for the ITV National Weather. The contract for the sponsorship ended when it was fully taken over by E.ON UK in Spring 2007.
1989-2001
2001-2003
The logo was given a slight tweak in early 2001, which made the 'Powergen' wording smaller and in a different font face.
2003-2007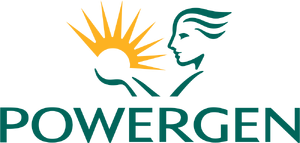 Another slight change was made to the logo in 2003 with the 'Powergen' wording being enlarged again (it looks more similar to the 1989-2001 logo). The company was taken over by E.ON UK shortly before this logo was introduced, but the name still remained until Spring 2007.
Ad blocker interference detected!
Wikia is a free-to-use site that makes money from advertising. We have a modified experience for viewers using ad blockers

Wikia is not accessible if you've made further modifications. Remove the custom ad blocker rule(s) and the page will load as expected.