1966–1987

The logo is the stylized words "PC" which are the initials of "Pony Canyon".
1987–2012
Pony and Canyon Records merged in 1987, it became Pony Canyon. Their logo was changed to be the same as Fujisankei Communications Group's eye logo.
2012–present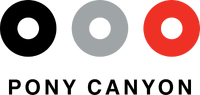 In 2012, Pony Canyon launched a new logo which is being used in tandem with the previous logo.
2017-present