1998
Japanese

Although the official Japanese title of the game is Pocket Monsters: Pikachu, the box art for the game has the Pocket Monsters logo displayed as a standalone, while the "Pikachu" speech bubble was located next to Pikachu. On the game's title screen, the "Pikachu" speech bubble is located right below the Pocket Monsters logo itself. Guidebooks for the Japanese version of the game featured the Pocket Monsters logo with a small Pikachu-head shaped icon next to it containing Pikachu's name in Japanese.
1999
English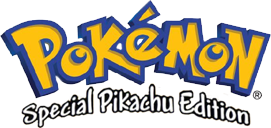 Ad blocker interference detected!
Wikia is a free-to-use site that makes money from advertising. We have a modified experience for viewers using ad blockers

Wikia is not accessible if you've made further modifications. Remove the custom ad blocker rule(s) and the page will load as expected.