1956–1964
1964–1981
The boy's face was placed on the Play-Doh logo.
1981–1992

The boy's face on the Play-Doh logo redesigned in 1981.
1992–2000

The boy's face on the Play-Doh logo re-redesigned in 1992. Also, his hat changed color from red to blue. The outline color also changed from black to blue.
2000–2003
The boy's face on the Play-Doh logo took off from the red part by the company, but it still did not remove. Also, the logo changed shape and the outline is rainbow instead of the one used by the 1992 and 2003 logos.
2003–2016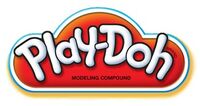 In September 2003, the boy's face on the Play-Doh logo was removed. Also, the shape was reverted back to the one which was used by the 1964, 1981, and 1992 Play-Doh logos.
2016–present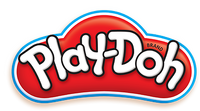 The phrase 'Modeling Compound' was removed from the logo, with 'Brand' moved from above the 'h' to the 'o', the bottom of the logo is now curved.
External links
Ad blocker interference detected!
Wikia is a free-to-use site that makes money from advertising. We have a modified experience for viewers using ad blockers

Wikia is not accessible if you've made further modifications. Remove the custom ad blocker rule(s) and the page will load as expected.