1973–2000
The first Pizza Hut in the United Kingdom was opened in Islington, London in 1973.
2000–2010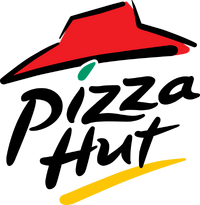 In line with other countries, Pizza Hut of the United Kingdom received a new logo in 2000.    
2010–present
In 2010, Pizza Hut in the United Kingdom was significantly revamped. This included a new menu, improved pizzas with more toppings and improvements to bases and crusts as well as larger pizzas overall and free unlimited salad with every main course.
The logo was significantly changed as well, the logo is now split into two boxes of shades of maroon, the 'red roof' being in the lighter shade and the wording (which in now on one line) in the darker shade. The logo also has the word 'Restaurant' attached at the bottom sometimes and the yellow line was removed.
Ad blocker interference detected!
Wikia is a free-to-use site that makes money from advertising. We have a modified experience for viewers using ad blockers

Wikia is not accessible if you've made further modifications. Remove the custom ad blocker rule(s) and the page will load as expected.