1998–2005
On June 30, 1998, the Pepsi company introduced a new variety of Pepsi called "Pepsi One". The drink's purpose was to offer only one calorie from drinking an entire can of Pepsi, and was intended to replace Diet Pepsi.
2005–2012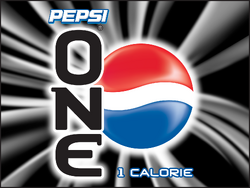 This is the only Pepsi drink to retain the "wave" logo after September 2008.
2012–2014
For 2012, the New logo has occurred! Actually, it's been defunct in 2014
A better version of this logo is needed, due to the picture quality, inaccuracies or other issues with the uploaded logo. You can help Logopedia by uploading it here.