1998-2005
On June 30, 1998, the Pepsi company introduced a new variety of Pepsi called "Pepsi One". The drink's purpose was to offer only one calorie from drinking an entire can of Pepsi, and was intended to replace Diet Pepsi.
2005-2012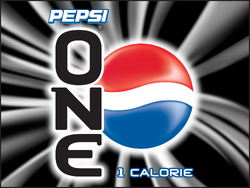 This is the only Pepsi drink to retain the "wave" logo after September 2008.
2012-2014
Eventually in 2012, Pepsi One had shed their "wave" logo.
Ad blocker interference detected!
Wikia is a free-to-use site that makes money from advertising. We have a modified experience for viewers using ad blockers

Wikia is not accessible if you've made further modifications. Remove the custom ad blocker rule(s) and the page will load as expected.