2010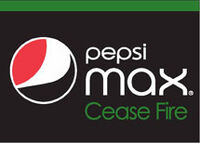 2010–2011

In September 22, 2010 @ 12:07 AM, Pepsi Max Cease Fire redesigned the logo while the 2010 Pepsi Max logo placed, the 'Cease Fire' part turned green yellow, the 'ease' and 'ire' parts changed to uppercase, the 'Cease Fire' part changed font, the space of the 'Cease Fire' part dropped and the 'Lime' part placed.
Ad blocker interference detected!
Wikia is a free-to-use site that makes money from advertising. We have a modified experience for viewers using ad blockers

Wikia is not accessible if you've made further modifications. Remove the custom ad blocker rule(s) and the page will load as expected.