????–201?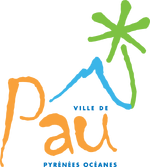 2011–present
A new logo for Pau was unveiled on January 7, 2011. The new logo has three P's were the counters have been replaced by a cow, a heart and a silhouette of the Pic du Midi d'Ossau mountain. The three P's comes from the new marketing name "Pau Porte des Pyrénées", which is French for Pau – Gate to the Pyrenees. Dragon rouge were behind the new identity.
Ad blocker interference detected!
Wikia is a free-to-use site that makes money from advertising. We have a modified experience for viewers using ad blockers

Wikia is not accessible if you've made further modifications. Remove the custom ad blocker rule(s) and the page will load as expected.