Contents

2015-2016
February 9th, 2016-September 13rd, 2017
September 13rd, 2017-present
2015-2016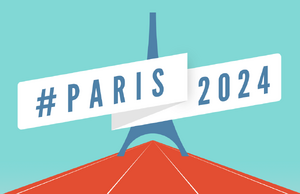 This logo includes the iconic Eiffel Tower it also include an athletics track, as well as the hashtag "#Paris2024".
February 9th, 2016-September 13rd, 2017
The official Paris 2024 Olympic Candidate City logo was revealed on February 9th, 2016, at the Arc de Triomphe, incorporating a '2' and '4' in the shape of the Iconic Eiffel Tower, as well as the 5 colours from the Olympic rings. The logo is designed by Dragon Rouge. The Slogan of The Bid Is "Made For Sharing".
September 13rd, 2017-present
See Also