Organization logos 
2003–2009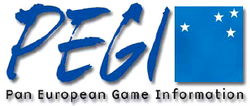 2009–present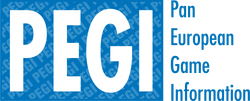 Rating icons
2003–2009
In 2003, the logos have a black color and white numbers.
2009–2010
In 2009, the age ratings logos have changed. The logos have gained color for each one (green for ages 3 and 7, yellow for ages 12 and 16 and red for age 18. Plus signs were removed from the icons, and the "ISFE" words around the numbers have been changed to "PEGI".
2010–present
In 2010, the PEGI words around the numbers have been removed.
Content descriptors
2003–present
Ad blocker interference detected!
Wikia is a free-to-use site that makes money from advertising. We have a modified experience for viewers using ad blockers

Wikia is not accessible if you've made further modifications. Remove the custom ad blocker rule(s) and the page will load as expected.