Orang Tua (Old Man) is the company that produced biscuits, candies, sweets, snacks, drinks and hygiene products. Its main products are Wafer Tango, Oops, Blaster, Fullo, Formula Oral Care and many more.
Attention, Direction and Action
1985-1995
Orang Tua
1995-2004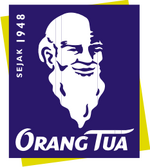 2004-present
Ad blocker interference detected!
Wikia is a free-to-use site that makes money from advertising. We have a modified experience for viewers using ad blockers

Wikia is not accessible if you've made further modifications. Remove the custom ad blocker rule(s) and the page will load as expected.