1999–present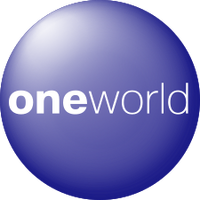 American Airlines, British Airways, Canadian Airlines (ceased operations in 2000 due to Air Canada's acqusition in 1999), Cathay Pacific and Qantas founded the Oneworld alliance in 1999, competing with Star Alliance (2 years prior to the alliance's founding, 1997), and later, SkyTeam, (formed in 2000). The alliance holds 15 full members, and is the 3rd largest airline alliance before Star Alliance and SkyTeam.
2009
An SVG version of this logo is recommended but not required. You can help Logopedia by uploading it here.
In February 2009, Oneworld celebrated its 10th anniversary with its then-current 10 airlines: American Airlines, British Airways, Cathay Pacific, Finnair, Iberia, Japan Airlines, LAN, Malév, Qantas and Royal Jordanian.