One HD
2009–2011

Ten HD was replaced by One HD in March 2009, an all-sports channel. Its slogan was Sport Lives Here. The channel broadcast on channel 1 with a high definition simulcast on channel 11 and a standard definition simulcast on channel 12.
One SD (2009–2010)

When One HD was launched, a standard definition simulcast known as One SD was broadcast on channel 12. One SD's logo was an altered version of One HD's logo with the "HD" branding removed. One SD was replaced with a high definition simulcast (formerly on channel 11) as channel 11 was reallocated for Ten's new multichannel Eleven.
One
2011–present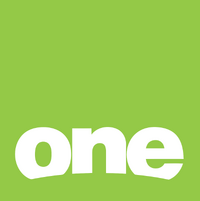 On 7 May 2011, One HD was re-branded as One and released a new logo when the channel expanded its contents beyond sports-only. The new logo was designed to mirror the logo for One's recently released sister channel Eleven. One's slogan was also updated to It All Lives Here to reflect its expansion of content.
Ad blocker interference detected!
Wikia is a free-to-use site that makes money from advertising. We have a modified experience for viewers using ad blockers

Wikia is not accessible if you've made further modifications. Remove the custom ad blocker rule(s) and the page will load as expected.