1905-1962
This article or section lacks a former logo at the moment. You can help Logopedia by uploading it here.
1962-1998

This logo is still used in some Olá's products, like the Rol sandwich icecream, for example.
1998-2003
In 1998, Olá adopted the Heartbrand logo, like all ice cream companies owned by Unilever.
2003-present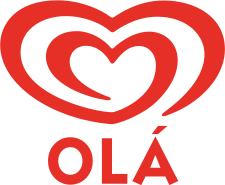 Subsidiaries
Hindustan Unilever | Unilever Indonesia | Unilever Philippines
---
Condiments and Ingredients
Knorr (Royco) | Maizena | Hellmann's | Amora | Calvé | AdeZ | Bertolli | Conimex | Unox | Zwan | Skippy | Slim-Fast | Fruco | Wish-Bone | Ragú | Crème Bonjour | Maille | Colman's | Alsa | Saga | Winborgs | Slotts | O'hoj | Mondamin | Lady's Choice | Best Foods | Lipton (Ice Tea | Brisk) | PG Tips
---
Cooking oils and Margarines
Blue Band | Rama (Central Europe) | Flora (Central Europe | United Kingdom | Australia and Asia | Finland | Sweden) | Becel | Planta | Fruit d'Or | Milda | Promise | I Can't Believe It's Not Butter | I Can't Believe It's So Good... | Shedd's Spread Country Crock | Lätta | Hera | Perla
---
Cosmetics
Axe (Lynx) | Block & White (Philippines) | Close-Up | Dermalogica | Dove (Men+Care) | Eskinol (Philippines) | Signal | Pepsodent | Lux | Lakmé | Hamam | Breeze | Liril | Master (Philippines) | Murad | Pond's (Men) | Hazeline | Regenerate | Rexona (Degree | Sure) | Suave | Vaseline (Vasenol) | Lifebuoy | Baba
---
Cleaning Materials, Shampoos and Conditioners
Cream Silk (Philippines) | Domestos | Coco Varela | OMO | Persil (UK and Ireland) | Via | Comfort | Sun | Sunsilk | Living Proof (purchase pending) | Nexxus | Cif/Jif | Surf Excel | Rinso | Clear | Sunlight | Super Pell | Robijn | TRESemmé | Citra | Breeze | Surf | Vivere (Argentina)
---
Heartbrand Ice Creams
Wall's (Great Britain, Indonesia, Malaysia) | Algida (Italy, Greece, Turkey, Hungary, Poland, Romania, Estonia) | Good Humor (USA) | Langnese (Germany) | Miko (France) | Frigo (Spain) | Ola (Netherlands, Belgium) | Olá (Portugal) | HB (Ireland, Northern Ireland) | GB Glace (Finland, Sweden) | Frisko (Denmark) | Eskimo (Austria) | Lusso (Switzerland) | Inmarko (Russia) | Bresler (Chile) | Holanda (Mexico) | Kibon (Brazil, Argentina, Falkland Islands) | La Fuente (Colombia) | Pingüino (Ecuador) | Tio Rico (Venezuela) | Streets (Australia, New Zealand) | Strauss (Israel) | Kwality Wall's (India) | Selecta (Philippines)
---
Specialty Ice Cream
Magnum | Cornetto | Solero | Calippo | Vienetta | Carte d'Or | Ben & Jerry's | Breyers | Popsicle | Klondike | Paddle Pop | Grom
---
Defunct
Van den Bergh Foods
---