1998–present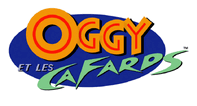 A better version of this logo is needed, due to the picture quality, inaccuracies or other issues with the uploaded logo. You can help Logopedia by uploading it here.The reason is listed here:English and French language.Without slightly logo.
Oggy and the Cockroaches, The Movie
A film that premiered in this 7th August.