Bakersfield Jam
2006-2007
This article or section lacks a former logo at the moment. You can help Logopedia by uploading it here.
2007-2016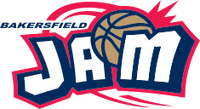 Northern Arizona Suns
2016-present
On April 12, 2016, the Phoenix Suns of the National Basketball Association bought the club, moved it to Prescott Valley to assume the name Northern Arizona Suns.[1] The team logos were unveiled on May 11, 2016.[2]