Peterpan (band)
2000-2004
Peterpan was formed in Bandung, West Java, Indonesia, 2000.
2004-2010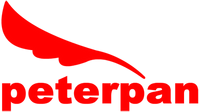 Peterpan was split up in 2010, when the band's vocalist Ariel was imprisoned due to pornography video scandal with Cut Tari and Luna Maya for 3 years and 6 months.
Noah (band)
2012-present
In 2012, after Ariel escaped from prison, Peterpan decided to form the band again. In August 2012, the band members announced that they would rename the band from Peterpan to Noah, this logo was announced later that month.