Nickelodeon Games and Sports
1998–1999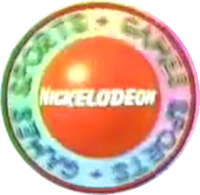 Nickelodeon Games & Sports was originally a block on Nickelodeon.
Nickelodeon Games and Sports for Kids
1999–2003
On March 1, 1999, the channel was launched.
Nick Games and Sports For Kids
2003–2009
Nickelodeon GaS used this logo from 1999 to 2007 (2009 on Dish Network) when the channel shut down. The logo is a two-color diamond with a flag-shaped Nick logo on top and the word "GaS" (G and S are in the Bank Gothic font and "a" is in Highway Gothic font inside a circle.) Below there are two strips (the first strip reads "GAMES AND SPORTS" in a grungy font and the second strip reads "FOR KIDS" in the same font.
Here's some promos with the logo
Ad blocker interference detected!
Wikia is a free-to-use site that makes money from advertising. We have a modified experience for viewers using ad blockers

Wikia is not accessible if you've made further modifications. Remove the custom ad blocker rule(s) and the page will load as expected.