News 4 Today was launched on February 9, 1994 at 6:00am Eastern Time. News 4 Today added in extra hour broadcasting from 5:00am - 7:00am until 2009 when they added an extra 30 minutes to bring the show to 4:30am - 7:00am.
February 9, 1994 - Unknown

There were other logos in between here that are unknown of date or design.
200?- 200?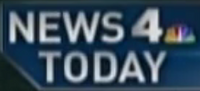 A better version of this logo is needed, due to the picture quality, inaccuracies or other issues with the uploaded logo. You can help Logopedia by uploading it here.
200? - Now

Other