Contents

2002–2008
2008–2013
2013–present
New Orleans Hornets
2002–2008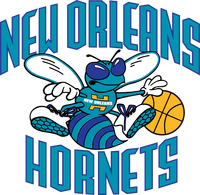 The New Orleans Hornets were formed after the original Charlotte Hornets franchise relocated to New Orleans for the 2002/03 NBA season.
2008–2013
New Orleans Pelicans
2013–present
On January 24, 2013, the New Orleans Hornets announced they would rename themselves the New Orleans Pelicans, in an effort to localize the franchise name, as the Hornets were carried over from the original Charlottle Hornets during relocation. The new name took effect in the 2013/14 NBA season. As a result, records and history of the Hornets from 1988–2002 before relocation to New Orleans were returned to the 2nd Charlotte Hornets franchise, leaving the Pelicans considered starting play in 2002.
See Also
Ad blocker interference detected!
Wikia is a free-to-use site that makes money from advertising. We have a modified experience for viewers using ad blockers

Wikia is not accessible if you've made further modifications. Remove the custom ad blocker rule(s) and the page will load as expected.