1991–1994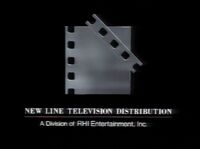 This logo was shown on In the Line of Duty when New Line bought a stake in RHI Entertainment. New Line's involvement with the company ended when Hallmark Cards bought RHI in 1994, around the same time when Turner Broadcasting System bought New Line.
See also
Ad blocker interference detected!
Wikia is a free-to-use site that makes money from advertising. We have a modified experience for viewers using ad blockers

Wikia is not accessible if you've made further modifications. Remove the custom ad blocker rule(s) and the page will load as expected.