This article is being considered for protection.

You can discuss it at Talk:Network Ten. This page should be protected for the following reason: Page is getting vandalized again.
Contents

1965–1970
1970–1980
1980–1984
1983–1988
1988–1989
 
1989–1991
1991–1999
1999–2007
2008–2013
2013–present
Independent Television System
1965–1970
From 1965 to 1970, Network Ten was known as the Independent Television System.
In 1967, ITS became the first network in Australia to air in color.
The 0/10 Network
1970–1980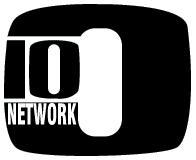 In 1970, the network was renamed The 0/10 Network to reflect the names of the first two stations in the group.
Network Ten (First era)
1980–1983
This logo was first used by ATV Melbourne to signify the change of frequencies from 0 to 10 in 1980. It was also used for a brief period by SAS10 Adelaide from 1983-84.
1983–1988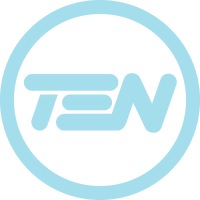 This logo was used by Ten Sydney from 1983-88 followed by Ten Melbourne and Ten Adelaide from 1984-88. This logo was similar to the new logo adopted by TVQ-0 in April 1983 when it was rebranded as 'TV0'.
1988–1989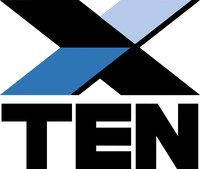 Used by TEN-10, ADS-10 and ATV-10 from January 24, 1988 to July 23, 1989. NEW-10 followed suit on May 20 when transmission began in Perth. TVQ-0 started using this logo on September 1 during a series of late-night test transmissions in the lead-up to September 10 when they changed frequencies from 0 to 10.
10 TV Australia
1989–1991
This logo was used across the network from July 23, 1989 to January 13, 1991 in an attempt to lift declining ratings.
Network Ten (Second era)
1991–1999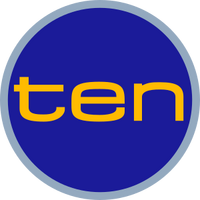 Introduced on January 13, 1991; this is the first version of the long-running 'ten' logo. Originally, the letters stood for 'The Entertainment Network'.
1999–2008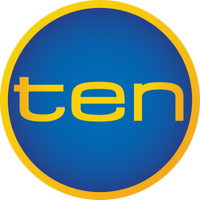 This new blue-and-yellow logo was launched in late 1999 when Ten began using their "Electric" station idents and used until early 2008.
2008–2013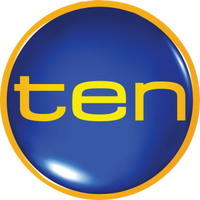 This glossy logo was launched in early 2008, and was used until June 2013.
2013–Present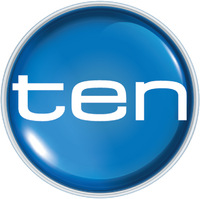 On 22 June 2013, Network Ten replaced the yellow rim and text with white and recoloured the blue core to a lighter shade.
On 2 March 2016, Ten re-textured the logo and removed the silver rim to coincide with the relaunch of Ten HD. This logo was only used on-air for the bug and logo animation, the 2013 logo was still used on all other branding, promo and idents.
Other