Z@ppelin 24
2009-2014
This article or section lacks a former logo at the moment.
You can help Logopedia by uploading it here.
NPO Zapp Xtra/NPO Zappelin Xtra
2014-2018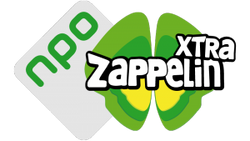 Due to cuts in public broadcasting, NPO Zapp Xtra shares the channel with NPO 1 extra (formerly called NPO Best) as of 1 August 2016. NPO Zapp Xtra broadcasts from 4:00 to 20:00; NPO 1 extra fills the remaining hours.
2018-present