Globosat
1991-1993
NETSAT was created originally as part of Globosat (this word is a portmanteau of Globo and satélite, Portuguese for satellite), with four channel in your line-up (Telecine, Multishow, GNT and TopSport). Globosat used the C-band in the transmission of its satellite channels.
NETSAT
1993-1998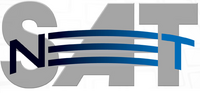 After Globosat be consolidated only as a pay-television programmer, his transmission system was renamed as "NETSAT", in reference to NET cable TV system, in which its parent company, the Organizações Globo, possessed an equity stake. The NETSAT television operations were closed in 1998 and replaced with the Sky Brasil.
Ad blocker interference detected!
Wikia is a free-to-use site that makes money from advertising. We have a modified experience for viewers using ad blockers

Wikia is not accessible if you've made further modifications. Remove the custom ad blocker rule(s) and the page will load as expected.