NBC Weather Plus
2004–2008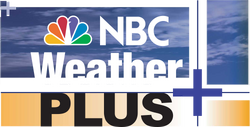 NBC Plus
2008–2012
A SVG version of this logo is recommended but not required. You can help Logopedia by uploading it here.
On December 31, 2008, NBC Weather Plus officially shut down, and was revamped as "NBC Plus"; NBC Plus consists of a loop of various national maps with music or local NOAA Weather Radio broadcasts, and on most affiliates, local weather maps. Several NBC stations have since defected from the service to affiliate with another network (either a major broadcast network, or another digital network), or to launch their own locally-based news channels.
Ad blocker interference detected!
Wikia is a free-to-use site that makes money from advertising. We have a modified experience for viewers using ad blockers

Wikia is not accessible if you've made further modifications. Remove the custom ad blocker rule(s) and the page will load as expected.